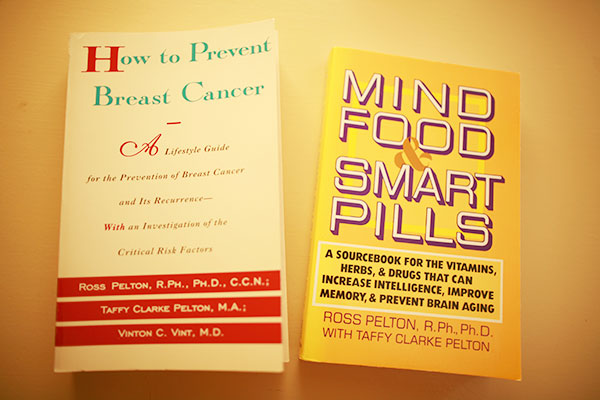 by Ross Pelton, RPh, PhD, CCN, and Lee Overholser, PhD (Simon & Schuster, 1994)
Alternatives in Cancer Therapy offers help for all patients coping with cancer. Patients have the right to know all of their treatment options, and nontraditional therapies can enhance the quality of life and improve overall health while treating the disease. The therapies discussed are primarily nontoxic; have few, if any side effects; and tend to strengthen the immune system. They can be used as supplemental regimens that help maximize the effectiveness of traditional therapies such as surgery, radiation, and chemotherapy. This book provides the research, efficacy, potential side effects, and availability of each treatment.
by Ross Pelton, RPh, PhD, CCN; Taffy Clarke Pelton, MA, LMFT, LPC; and Vinton C. Vint, MD (Simon & Schuster, 1995)
The most commonly diagnosed form of cancer for women in the Unites States, breast cancer is believed to be a disease largely beyond our control. In How To Prevent Breast Cancer, you'll find groundbreaking information that challenges that belief and offers traditional and alternative approaches to avoiding the disease. Practical and holistic, this thoroughly researched reference teaches you how to modify our diet and lifestyle to maximize your potential for living a life free of breast cancer.
by Ross Pelton, RPh, PhD, CCN, and Taffy Clarke Pelton, MA, LMFT, LPC (Doubleday, 1989)
If you've ever wished you were smarter, had a sharper memory, or could slow down the aging of your brain, this source book is key to expanding your mental capabilities and maintaining your optimum level of mental performance. The Peltons present a compendium of vitamins, herbs, and drugs that can work wonders for the human mind. From antioxidants like Vitamin C and selenium to herbs such as ginseng and Ginkgo biloba that can combat brain aging, each supplement is covered in detail, including sections on dosages, potential side effects, and availability. This was the first book written on "smart drugs."
by Ross Pelton, RPh, PhD, CCN, and James B. Lavalle, RPh, CCN (Morton Publishing, 2000)
Written by two outstanding pharmacists and educators in the field of health and nutrition, Nutritional Cost of Prescription Drugs is an invaluable tool for any prescription drug users who wish to maintain good nutritional health. It features consumer-oriented discussions of commonly used drugs and the nutritional losses they cause, basic explanations of essential nutrients and their source, practical advice, and quick reference charts of drugs and nutritional losses.
by Ross Pelton, RPh, PhD, CCN (BookBaby, 2013)
Birth control pills are currently taken by more than 12 million women in the United States and 100 million women worldwide. Most women don't realize taking the "pill" substantially increases their risks for many health problems, some of which are quite serious. Oral contraceptives increase a woman's risk of depression, sleep disorders, anemia, low energy, migraine headaches, vaginal yeast infections, heart attacks, strokes, blood clots, diabetes, a weakened immune system, giving birth to an infant with birth defects, and cancers in the uterus, colon, and breast. The Pill Problem teaches women how to protect their health from the dangerous side effects of oral contraceptives. Pelton educates women about why oral contraceptives can cause so many health problems, and he presents some relatively easy and inexpensive steps that can be taken to minimize their risks.
by Ross Pelton, RPh, PhD, CCN; James B. Lavalle, RPh, CCN; Ernest B. Hawkins, RPh, MS (Lexi Comp, 2001)
This work contains a complete listing of all drugs known to deplete the body of nutritional compounds. Alphabetically organized, 150 drugs that cause nutrient depletion are identified and cross-referenced with more detailed descriptions of the nutrients depleted and their actions. The book also describes symptoms of depletion and sources of repletion. The appendices include a quick reference Drug-Induced Nutrient Depletion Table, along with details on food/drug interactions and herb/nutrient depletions.
by Ross Pelton, RPh, PhD, CCN; James B. Lavalle, RPh, CCN; Daniel L. Krinsky, RPh; Ernest B. Hawkins, RPh, MS; and Nancy Ashbrook Willis (Lexi Comp, 2000)
Designed to offer healthcare providers with a comprehensive guide to using natural products for many common medical conditions, this guide includes information on natural medicine, herbal medicine, nutrition, homoeopathy, and glandular extracts.